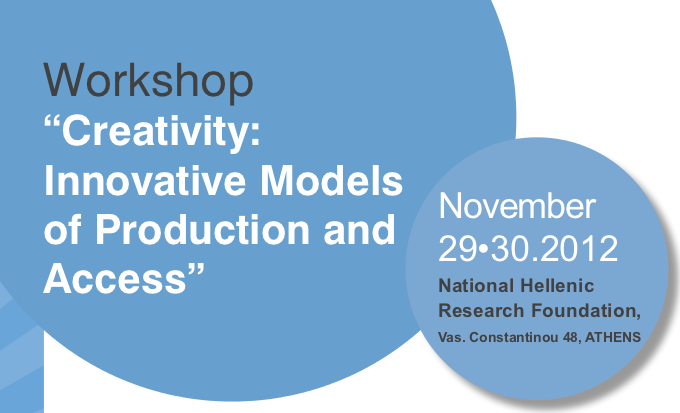 "Creativity: Innovative Models of Production and Access"
Workshop
November 29•30.2012 National Hellenic
"Creativity: Innovative Models of Production and Access" is an initiative that aims to analyze new models of creative production and access to cultural materials. The project is geared towards finding a new balance between the economic sustainability of the cultural sector and access to knowledge, thus stimulating creativity on all scales. It focuses on innovative initiatives that create or permit access to culture in a way that is fully adapted to the digital environment, where access to culture and the transformation of existing works and distribution networks take on new
meaning.
One of the central concerns is the new possibilities that these practices/models open up for authors and entrepreneurs. The National Documentation Centre (EKT/NHRF), already aiming towards Innovation and Access, is a partner of the project "Creativity" and co-organizer of the events.
The project "Creativity" is about to have its first event hosted in Greece on November 29 and 30, which consists of professional visits to public institutions, interviews with experts from each type of organization and a fruitful exchange of knowledge and opinions on how a common cultural information environment could be created, by finding synergies between the organizations.
The main purpose of the event is to create focus groups consisted by public institutions, experts and innovative entrepreneurs, with a view to share the insider-knowledge of institutions and analyze the problems of cultural industries, assess case studies, reach conclusions and propose solutions.
Programme
Thursday, 29 November 2012
09.00 – 09.30 Registration
09.30 – 10.00 Welcome addresses
10.00 – 10.45 Analysis of collected material – Dr. Prodromos Tsiavos
10.45 – 15.00 Professional visits to institutions (Benaki Museum, Hellenic Broadcasting Corporation/ERT, RadioBubble)
Friday, 30 November 2012
09.00 – 09.30 Registration
09.30 – 14.00 Professional visits to institutions (Greek Free/Open Source Software Society, Acropolis Restoration Service, Hackerspace)
14.00 – 16.00 Discussion on case studies – Conclusions
More info: http://www.ekt.gr/en/index.html